Wooden Hot Tubs for Sale IRELAND
A New Level of Relaxation with TimberIN Wooden Hot Tubs
With life seemingly getting faster and showing no signs of slowing down, it can be hard to find time to gather our thoughts and relax. Even in the comfort of our own home, we are surrounded by devices that keep us awake. From TV's and smartphones to speakers and video games, it appears that the places in which we can relax are reducing by the day. This is where we can help. With our woden hot tubs and outdoor saunas, you can enjoy the relaxing atmosphere of a wooden hot tub or an outdoor sauna in the comfort of your garden. Designed using a rustic and traditional approach, you can rest up and escape the stresses of modern-day life surrounded by traditional aesthetics.
We create each of our products with genuine craftsmanship, ensuring they will withstand the test of time and the pressure from the weather throughout the years. Each one of our wooden hot tubs and outdoor saunas is built with a foundation that lasts. Using high-quality materials for each intricate area of our designs, we make sure that you receive only the best value for money.
VIEW MORE
Our stunning wooden hot tubs are ideal for time alone and time with the family. They can be used for those quiet moments of relaxation, as well as fun with your loved ones. Not only are they a place in which you can relax, but they can also enhance the overall aesthetic of your back garden. Rather than having a simplistic plastic design, you can enjoy the aesthetic of bespoke wood that looks stunning throughout the years to come.
No matter your budget or preferences, we can work with you to bring your hot tub and sauna visions to life. After understanding your requirements, we will craft in accordance with your desires, allowing you to enjoy a design like no other. With a key eye for detail, you can rely on us to provide you with a truly outstanding design, focusing on quality and complete satisfaction.
With hundreds of happy customers, we aim to continue helping individuals reduce stress and find their ideal environment for relaxation.
No matter what you're looking for, we have you covered at TimberIn.
Contact us now and discover how our products can change your garden forever!
This is how the wooden hot tub is constructed.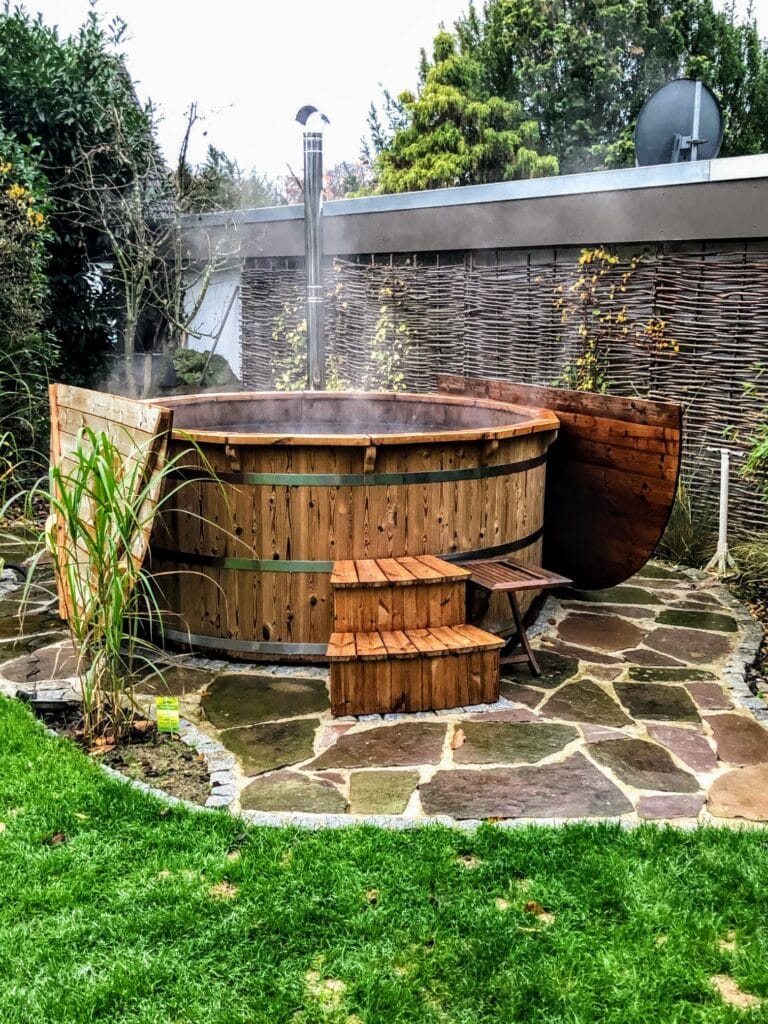 Wooden Hot Tubs: The Ultimate Guide
Everyone loves going to the spa, after all it is a place of such peaceful relaxation and complete tranquillity, and when we leave we feel rejuvenated, revitalised and refreshed. Finding the time and means to go to a spa can be difficult in the midst of our hectic routines, however, which means that we rarely have the opportunity to enjoy a spa-day as regularly as we would like to. There's a surprisingly simply solution to this though – why not create your own home-spa? Creating a home-spa is neither as expensive or as complicated as it sounds, and to be honest all you actually really need is a high-quality and long-lasting wooden hot tub.
A hot tub is an amazingly versatile piece of tech, and the myriad of emotional, physiological and psychological benefits it provides ensures you can sit back and have the premium spa experience, from the comfort of your home. Wooden hot tubs, in particular, are unparalleled when it comes to their longevity, durability, aesthetic as well as functionality. Purchasing a hot tub is one of the most worthwhile and rewarding investments you'll ever make in your life, and to make this decision that much easier for you we've created this guide telling you everything you need to know about purchasing and using wooden hot tubs.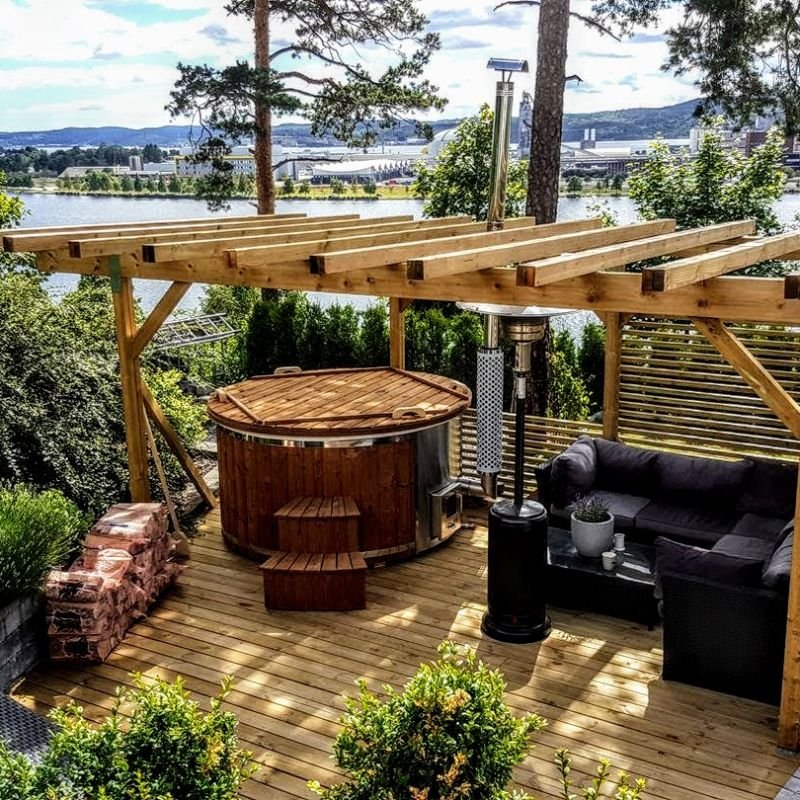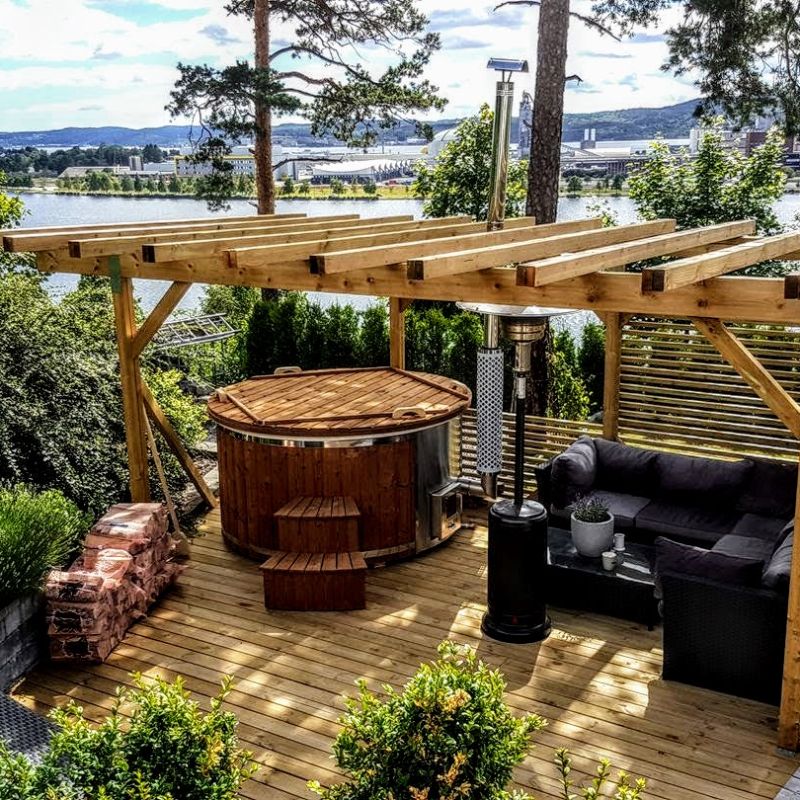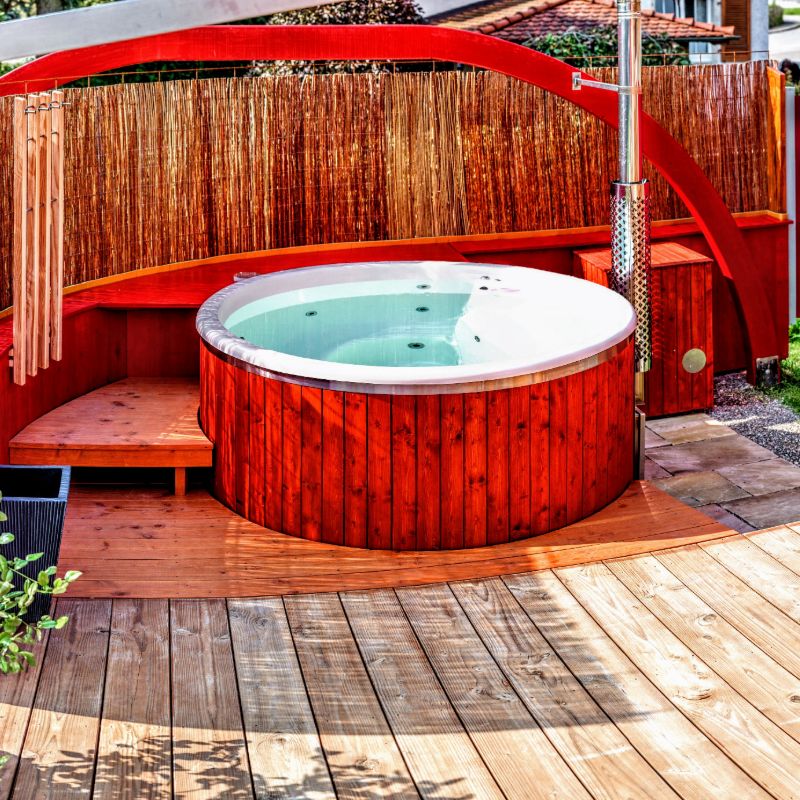 Enhance Your Well-Being – Mind, Body and Soul
For many people a hot tub is regarded as a recreational, and rather luxurious, way to unwind after a hectic day, pass time or enjoy weekends with friends and family. However, something which is often overlooked are the myriad of benefits a hot tub can provide for your overall well-being. Life in the 21st century is incredibly busy – there's no doubt about it. We're confronted with daily to-do lists that just seem to be getting longer and longer, and at the same time there doesn't seem to be as many hours in the day as there used to be to get everything done.

VIEW MORE
Juggling the various responsibilities of work, education, family and friends can result in a constant state of stress and exhaustion. In the long-term, this stress and fatigue can have a serious impact upon our productivity levels, performance at work and school, as well as our general feelings of satisfaction and contentment with our lives. The solution to this is ensuring that we take out some time for ourselves everyday where we actively focus on and do only those things which give us fulfilment, happiness and relaxation.
Hot tubs are an amazing way to give ourselves a few moments of much-deserved pampering each day. Even a fifteen or twenty minute soak every morning or evening is enough to have you feeling your best, and the advantages of integrating a hot tub into your daily routine are incomparable to anything else. Nothing is more important than self-care, and even just a handful of minutes in a hot tub can bring that vitality and bounce back into your mind, body and soul, so that you can maintain your productivity levels and consistently out-perform yourself with dedication, energy and commitment.
The Benefits of Hydrotherapy
Due to their design and engineering, hot tubs are uniquely well-suited to hydrotherapy purposes. Essentially, hydrotherapy is the manipulation and application of water in such a way that it relieves physical discomfort whilst also promoting mental well-being. Hot tubs use powerful and concentrated currents of water and jets of air in order to massage your neck, shoulders, feet, back and more or less all of the joints and muscles of your body. Through immersion, heat and movement hot tubs enable you to reap all the benefits of hydrotherapy from the comfort of your home.
VIEW MORE
The therapeutic uses for a hot tub are virtually endless. For example, if you're feeling muscle soreness from a particularly vigorous workout, hot tubs are excellent for athletic recovery because the buoyancy and heat of the water enables effective muscle recovery. It is for this reason that they also provide relief from the discomfort of conditions such as persistent back-pains or arthritis. Whilst an evening soak will encourage a night's worth of peaceful and deep sleeping, a morning soak will invigorate and energise you for the day ahead. Hydrotherapy also boosts blood circulation, reduces tightness and tension in the muscles, and relieves symptoms of stress.
Hydrotherapy in a hot tub is a holistic approach to healthcare and wellness, and alongside providing general benefits such as sleep quality, injury recovery, pain-relief and stress, it also has therapeutic uses for more specific ailments and conditions such as blood pressure, arthritis, insomnia, chronic pain and restless leg syndrome. Numerous empirical studies have demonstrated the effectiveness of hydrotherapy, and with a hot tub you can treat yourself, your family and friends to a session of hydrotherapy whenever you want.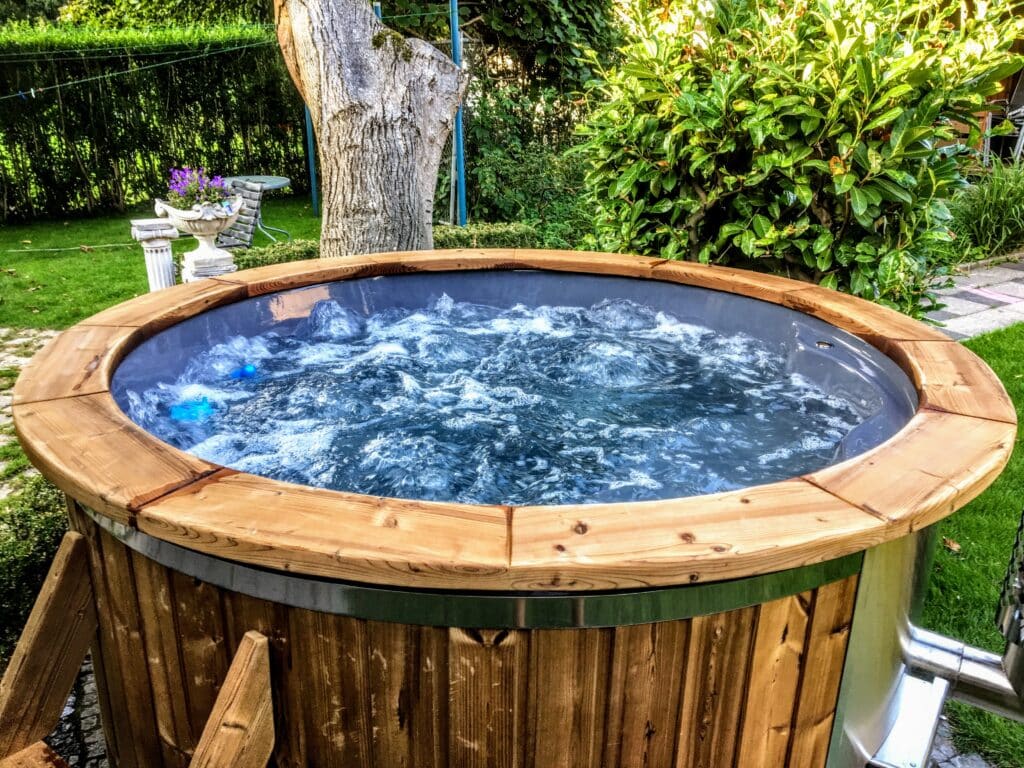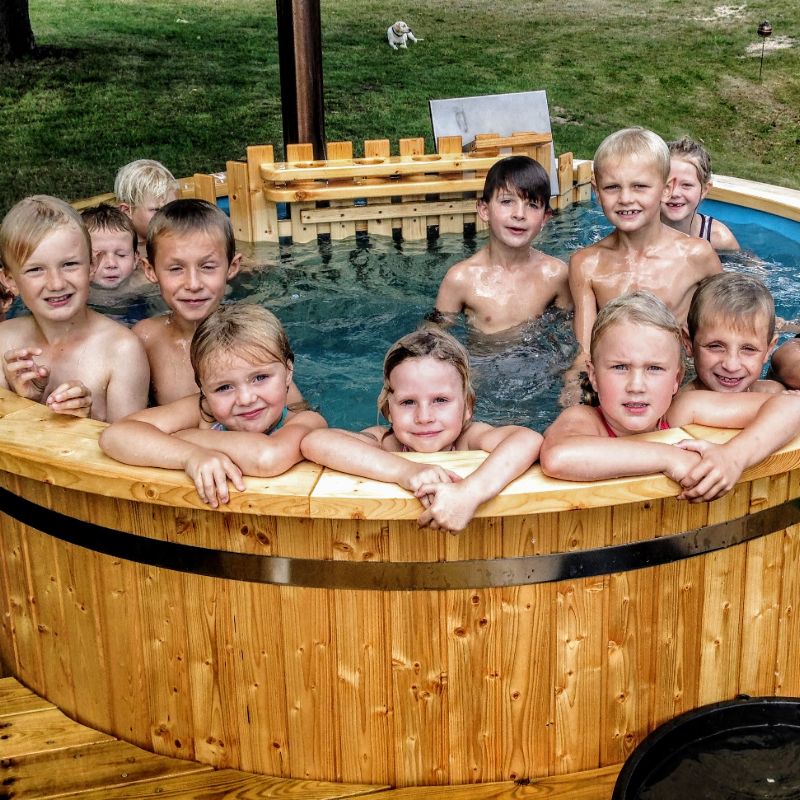 A Worthwhile and Meaningful Investment
Hot tubs have so much more to offer alongside the therapeutic purposes we've outlined above, and these only further cement the reasons as to why a hot tub is an indispensable and invaluable possession to have in your home:
• Promotes self-care, relaxation, and well-being.
• An excellent way to casually socialize with family and friends.
• Appreciate some quietness and solitude without phones, devices, or screens,
• Enjoy a romantic evening with your significant other.
• Summer, spring, fall, and winter – perfect for every season!
• Elevate your home-spa with a face mask, some soothing music, and scented candles.
• Unwind in the evenings or prepare for the day ahead in the morning
• Feel amazing – mind, body, and soul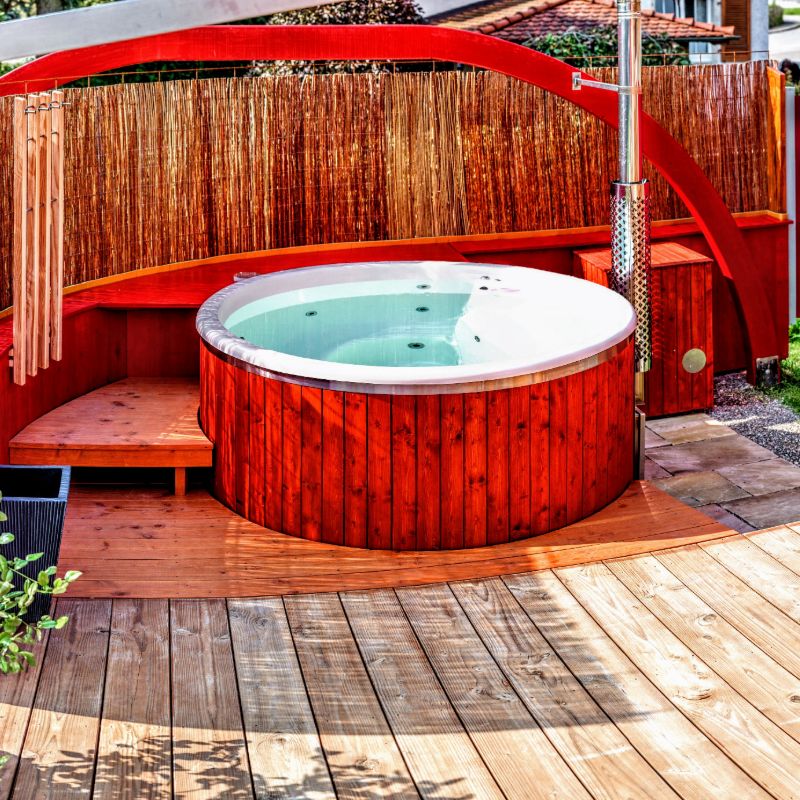 Considerations When Purchasing a Wooden Hot Tub
Types and Variations
There are so many different types and variations of hot tubs available on the market, and as they are being created with increasingly sophisticated technologies, this means that there are hot tubs with virtually any combination of sizes, features and shapes. Such variety means that there is a hot tub out there which is bound to live up to all of your expectations, and it is just a matter of understanding each of the options as well as what you are personally looking for.
For example, there are hot tubs for just a couple of people whilst there are others which can cater for eight or more. There are portable models which can either be made of inflatable vinyl or latex, or other types of plastic such as fibreglass and acrylic, or natural materials such as wood. Custom-built models are an alternative to portable ones, and these sunken in-ground hot tubs are integrated into the landscape of your home.
Portable hot tubs, as their name implies, can be easily moved around. Portable hot tubs don't require a complicated installation process or special plumbing, and it is just a matter of placing them on a level and firm surface, connecting them to an electricity source and filling them with water. In-ground hot tubs, on the other hand, require a lengthier installation progress which means digging holes, running plumbing and a connection to a heat source. Unlike portable hot tubs, however, in-ground ones can be seamlessly incorporated into your home or garden for an effortlessly elegant and integrated look.

Why Wooden Hot Tubs
Regardless of what you're looking for in a hot tub, the rustic appeal and natural aesthetic of a wooden hot tub makes them an incredibly popular choice for everyone. Wood has always traditionally been the material hot tubs were made from, and wooden hot tubs themselves come in an array of shapes and sizes alongside a range of features – making them the ideal choice for you, whatever your requirements and preferences may be.
There is something for every budget and home. For example, if you live in a place where conserving space is important, then there are fairly cheap wooden hot tub flat packs which you can easily and simply assemble yourself. If you prefer a more permanent or solid structure, however, then there is always a wooden hot tub jacuzzi with jets, massaging options and a variety of exciting features.
Size is another crucial consideration, and there are two person wooden hot tubs for a more intimate setting, or wooden hot tubs with a capacity of eight people or more if you're expecting to host jacuzzi parties or group hydrotherapy sessions. Whatever you're looking for in your quest for the perfect hot tub, the unmatched durability, efficiency and beauty of wooden hot tubs makes them an easy choice.
Wood-Fired or Electric?
Moreover, hot tubs are engineered with different heating methods, and this will affect its performance, purpose as well as maintenance requirements and expenses. For example, there are wood fired hot tubs as well as electric wooden hot tubs, and whichever one you choose is ultimately a matter of choice. One of the central advantages a wood-heated fuelled hot tub has compared to its electric counterparts is that it is much more efficient when it comes to energy consumption.
The amount of time it takes for a wooden hot tub to heat up depends on a number of factors, such as the temperature of the water, the weather outside, as well as the volume of the water in your hot tub. Generally, wood-burning hot tubs heat up considerably faster than those powered by electricity. What's more a wood burning hot tub requires only dry firewood, whilst an electric hot tub does need to be connected to an electricity source.
With a wood-fired hot tub you also have the liberty to place your hot tub wherever your heart desires, whilst with an electric hot tub you are somewhat restricted by access to a power outlet. Still, a worthwhile observation is that electric hot tubs can be easily turned on by pressing a button, and if you don't mind waiting a little longer for the water to heat up then it is the perfect option for those who value this simplicity.
Although you have the flexibility to place a wood-burning hot tub anywhere you want, collecting, organizing and managing the firewood does require a little more effort and time than an electric one. Smoke and ashes will also be an inevitable part of the experience. For many people, however, the ritual of lighting a wooden fire for a hot tub is part of the rustic appeal and traditional charm of the whole experience.
A Gorgeous Addition to Your Home
Wooden hot tubs are not only energy efficient and ecological, they are also things of beauty. Wooden hot tubs can be created from woods such as cedar, oak, teak and redwood, and the natural patterning and variegated colouring of these various types of wood gives wooden hot tubs a gorgeous organic splendour which cannot be matched by any other synthetic material. The earthy tones, deep reds and glowing browns are complimented by the texture and grains in the wood, creating a truly visually stunning and breathtaking asset to your home.
The geometric forms and shapes of wood are incredibly beautiful, and the range of shapes and designs wooden hot tubs can be found in only enhances this natural geometry. For example, the angles of a square wooden hot tub create a more contemporary aesthetic, whilst a round wood powered hot tub has a more organic and timeless appeal. The customisations are also endless, with options such as an outdoor wooden barrel hot tub enabling you to create the perfect atmosphere and vibe for your home-spa.
Wooden hot tubs possess a rustic and traditional aesthetic, aroma and charm which is uniquely appealing to the senses. The hardness, durability and functionality of wood is unrivalled, and in many instances wooden hot tubs are significantly cheaper than synthetic ones – in terms of installation and energy efficiency as well as when purchasing. Hot tubs themselves are a holistic and comprehensive approach to self-care and well-being, and the natural qualities and organic beauty of wood makes this natural material the perfect accompaniment for the quiet solitude and tranquillity of a session in the hot tub.

Having more than 10 years of experience, we can offer faultless designs!
Our products combine the benefits of modern tubs with traditional luxuries to bring you the ultimate relaxation experience.