Stoves, heaters for hot tubs
Why should you use hot tub heaters?
Buying a hot tub is a great investment if you're looking to relax and unwind more than ever before. Thankfully, there are all kinds of options on the market, all you need is to find the best one that gives you the results and efficiency you expect. That being said, you do want to buy a great hot tub heater to ensure that your unit gets the utmost results and benefits.
How do hot tub heaters work?
The way these hot tub heaters work is quite easy to understand. It's all about understanding their system and adapting it accordingly in a way that delivers value and quality. Here are the steps that offer you the value and experience you expect.
Start by filling the tub with water at the desired level
Then you can add some large logs into the heater every 10-15 minutes. This will help sustain the fire.
Make sure that you keep the lid on while the hot tub water is heating
Ideally, you want to stir the water and then measure the temperature every 20 minutes. If the temperature is over 32 degrees Celsius, then you can add some firewood.
Open up the lid around 5 minutes before you start bathing. You can close the lid once you stop bathing.
It's important to remove the ashes from the heater after each bath. This will keep the hot tub heater clean and ready to use for the next bathing experience.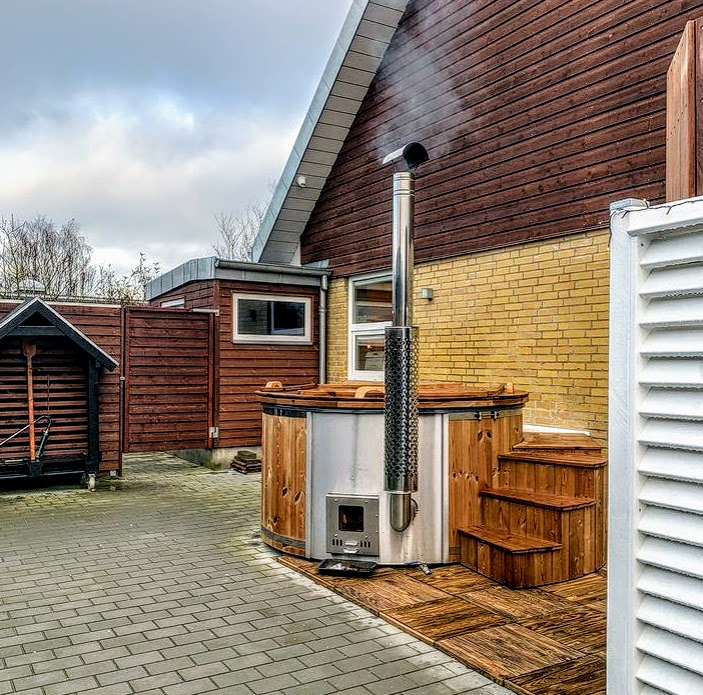 Is it possible to replace the hot tub heaters?
Absolutely, you can get electric ones, wooden ones and so on. If your hot tub heater is not working the way you expected or it malfunctions, it's very easy to replace it with a new one. An upgrade to your hot tub heater can be great because it gives you more value, efficiency, and an outstanding experience. It's one of those things that can indeed make a huge difference, and the results will be second to none.
What affects the hot tub heater efficiency?
Things like the ambient temperature, cover placement, and even outside temperatures can sometimes damage your hot tub heater. In time, this can lead to lower efficiency and problems. That's why you want to address the issue as much as you can, and the experience itself will shine all the time.
Ambient Temperature
What you need to realize here is that the ideal temperature for the hot tub water should be 40C, maybe a tiny bit less. If outside you have half that temperature, then heating will take a lot of hours. You do need to monitor everything to ensure that you get the utmost results. Use a hot tub control panel to monitor the temperature. There are also floating spa thermometers you can use as well.
Cover Placement
You can speed up the heating process if you keep the cover on. That being said, the cover can get damaged due to a lot of heat. It can also keep a lot of microbes and grime inside. You can however replace the cover as needed, and the results themselves can be great if you do this properly.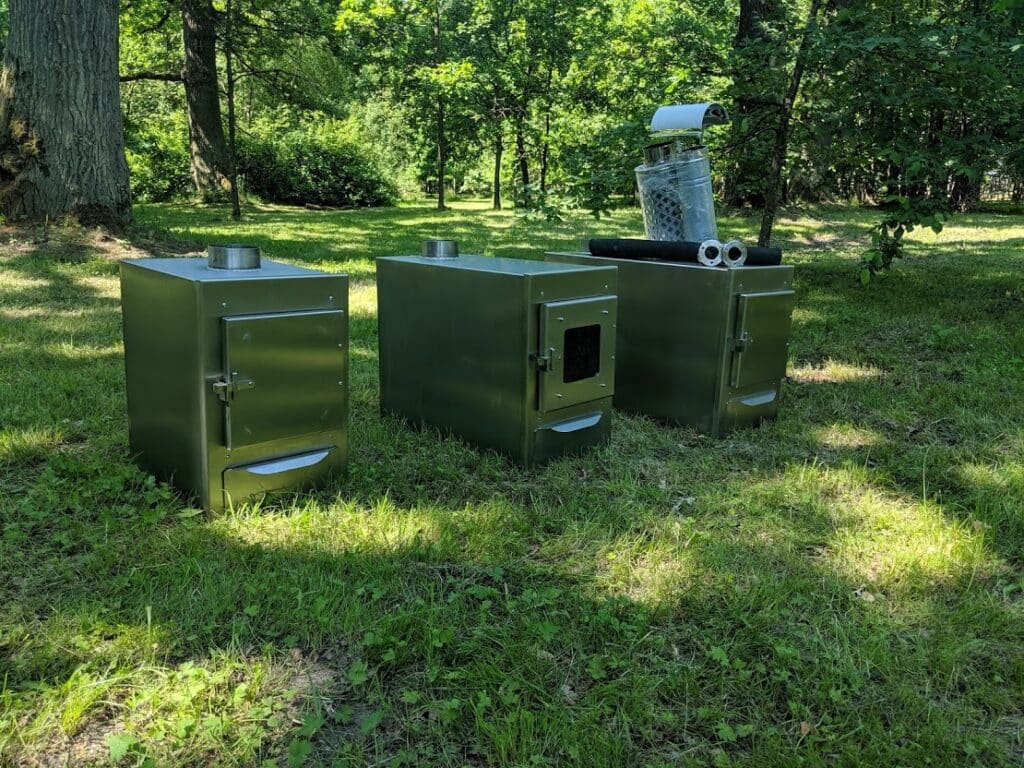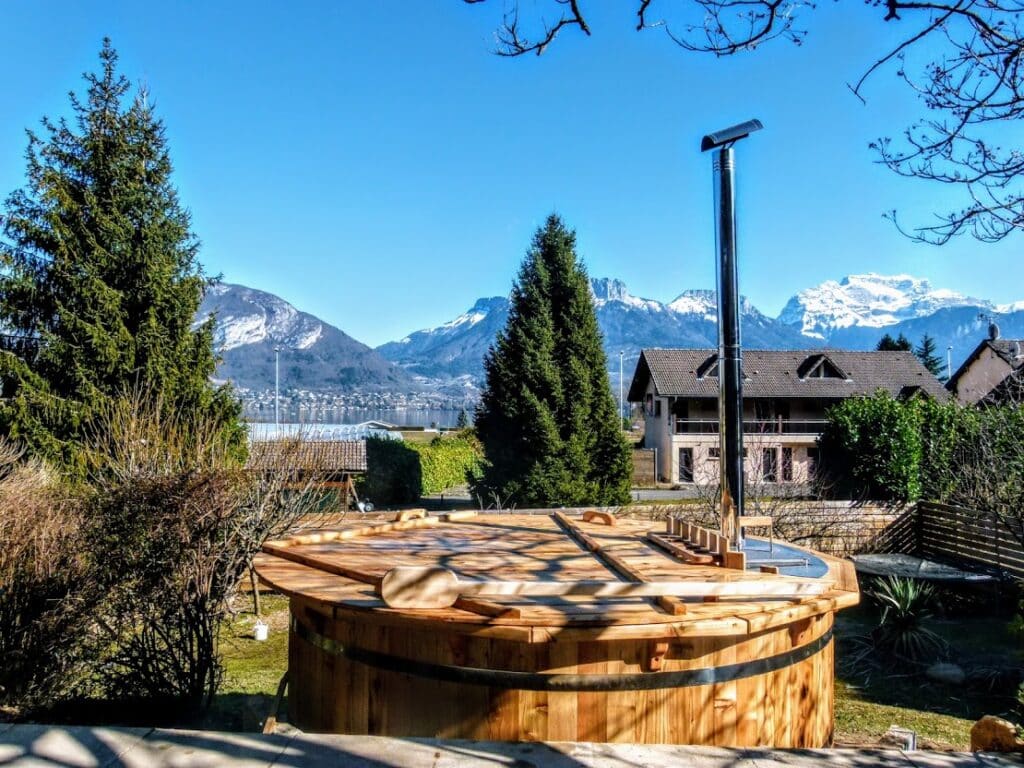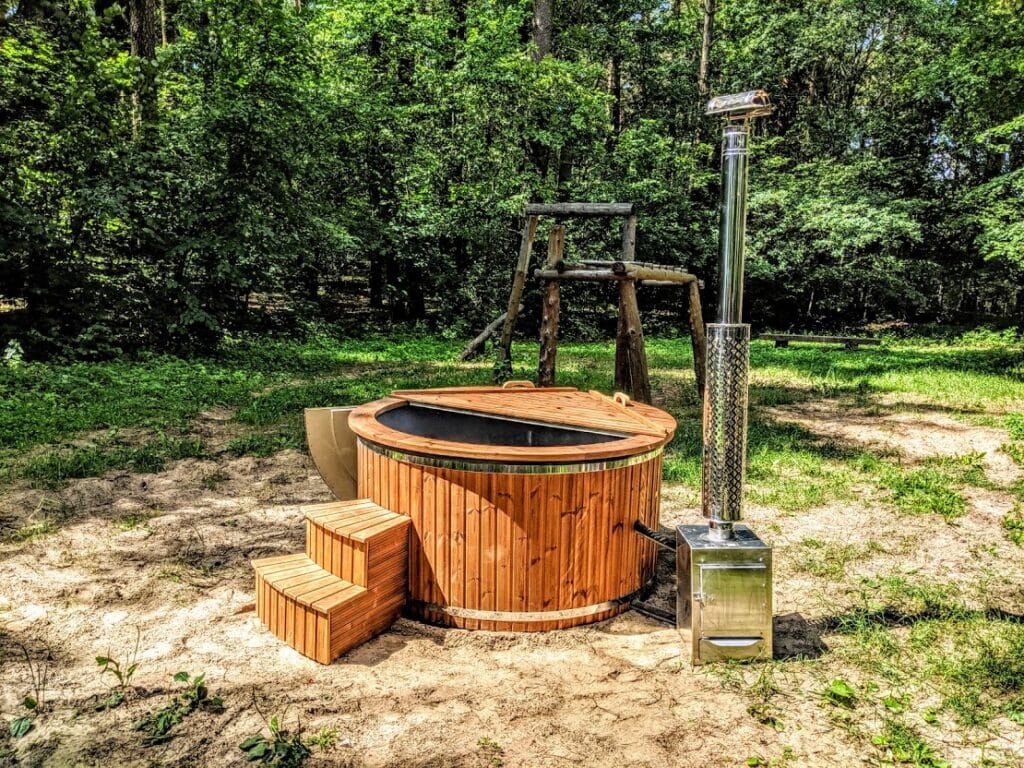 Warm up the landscape area
It's important to block weather and wind from the hot tub. The wind is known for enhancing cooling and evaporation, things that you obviously want to avoid as much as you can. Windbreaks will help enhance efficiency, while also bringing the value and quality you expect every time. That alone can be well worth the investment, especially in the long term.
Boost the hot tub insulation
Sometimes the hot tub might have cabinet leaks, so it makes a lot of sense to try and insulate it properly. This will keep the water warm, not to mention you can easily build a cabinet surround if you're into DIY ideas.
What wood is ideal for hot tub heaters?
It depends on where you live. An ideal option includes chopped, dry birch. However, you can use other types of wood too. The idea here is that you want high-density wood because it delivers a very good value and incredible results. You can end up needing anywhere from 60 to 120 liters of firewood, which is something to consider here. The amount will vary based on the outside temperature, wood quality, and moisture content.
Things to consider when you want to heat the hot tub
It's important to make sure that you have enough water in the tub. On top of that, you need to know that you have exactly the amount of firewood you need to power the hot tub heaters. Keep a large fire and then add firewood every 10-15 minutes, just to be safe. If the fire goes out, then the circulation will slow down too, and you must restart the fire. That's why you want to keep the fire active. It's a great thing to consider and it will be well worth the effort in the end.
How is the water heated?
The way this works is the heater automatically captures water and heats it up. As the water is heated, it lowers its weight, and then it goes to the upper part of the heater. The cold water descends to the bottom and then it goes back inside the heater. It's a pretty simple system, but it's an efficient one and it does bring in great success and results.
How fast can you heat the bathwater?
That depends on things like the tub size, heater power, firewood quality if you use a cover or not. You do need a few hours to heat a tub of 1500 litres, so that's something to consider here. Use dry wood and chop it into pieces for the best results. Moist or large firewood will increase the heating time, and that's surely something you want to avoid.
At the end of the day, knowing how to use and choose hot tub heaters is very important, and these tips and tricks will help you get started. It's a great investment, and one that will impress you every time.
Having more than 10 years of experience, we can offer faultless designs!
Our products combine the benefits of modern tubs with traditional luxuries to bring you the ultimate relaxation experience.